MARY L. WADE PH.D.
TOUCHING THE DREAM
POEMS AND PRAYERS FOR
OBAMA AND THE NATION
This book of poems and prayers for Obama and the nation was inspired by the message of Unity, Cooperation, and Reconciliation. The journey and campaign of Barack Obama is spiritual, as it is for me. At a time of war; he teaches peace, at a time of hate; he teaches love. Obama is uniquely qualified to unify and lift the nation spiritually and politically.
As you read this book, I pray that you will feel the joy and inspiration that Obama has inspired through this work.
Dr. Wade is an associate minister at Wayland Temple Baptist Church and holds a PH.D. in Conflict Analysis and Resolution. In addition, she is a Counselor, Organizer, Writer, and Public Speaker. She is deeply appreciative of the interest that has been shown in this book.
She is available for readings and speaking.
You are invited to purchase Touching the Dream for $15.00 plus $2.00 for shipping. Accepting payment with PayPal.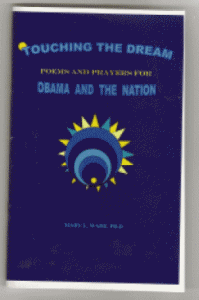 Mary L Wade PH.D.
email: mlight1940@yahoo.com